paint your world
Cascadea lets you customize the look of any website to your personal taste. Easily import existing styles from popular custom style websites, or from any CSS file — or write your own with Cascadea's powerful built-in editor. Cascadea gives you the power to paint the web in your own colors.
style and substance
Cascadea includes an incredibly capable CSS editor for writing or editing custom styles. With features like syntax highlighting, autocompletion, code folding, beautification, and support for opening styles in multiple tabs, Cascadea is a one-stop shop for writing stylesheets.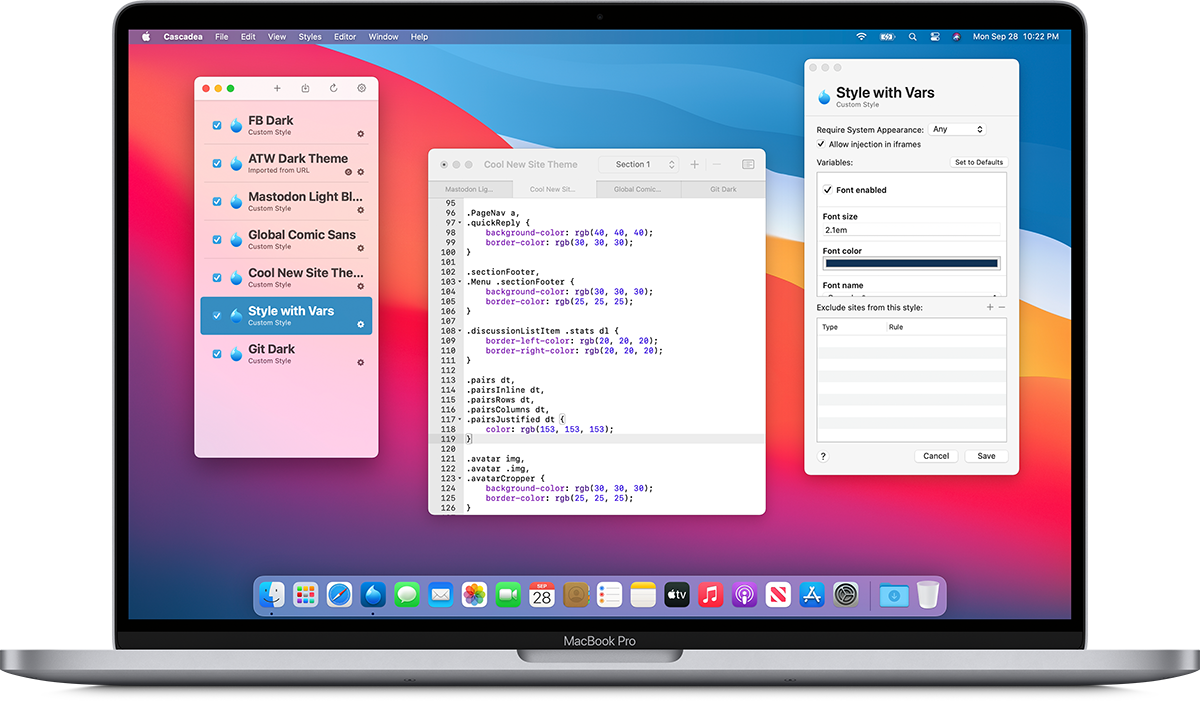 built for macOS and Safari
Cascadea is the first custom style manager built from the ground up as a native app for macOS, leveraging Safari's modern App Extension framework. This allows Cascadea to be fast, efficient, and integrate with your Mac like no userstyle extension before. Use your Touch Bar to navigate through your code, take your style in Split View with Safari for live editing, and give your eyes a rest with support for macOS Mojave's Dark Mode.
Cascadea is committed to your privacy. Cascadea will never track your website history, serve you advertisements, or ask you to download malware.
Cascadea is © 2018-2020 Michael Freuden. All rights reserved. Mac, macOS, and Safari are trademarks of Apple Inc., registered in the U.S. and other countries. Images by Unsplash and Linea. Privacy Policy
privacy policy
---
The Cascadea privacy policy is very simple: I don't collect any data from you using the app. The app itself has absolutely no analytics code, no behavior tracking, and no A/B testing. If you have enabled App Analytics in macOS, Apple may supply me with anonymous crash reports to help me identify issues in the app. That is all I collect.

When you install Cascadea and enable the extension in Safari, you may notice that the extension requires the ability to see any webpages you are visiting, as well as view and modify the contents of these webpages. These permissions are essential to Cascadea's ability to function. The extension needs to see what webpages you are visiting so that it can determine what custom styles should be applied, and it needs permission to read and modify those webpages to inject your custom styles. At no point does Cascadea store or transmit any information about what websites you are visiting, or any information you are entering or viewing on those sites. Pinky-swear.